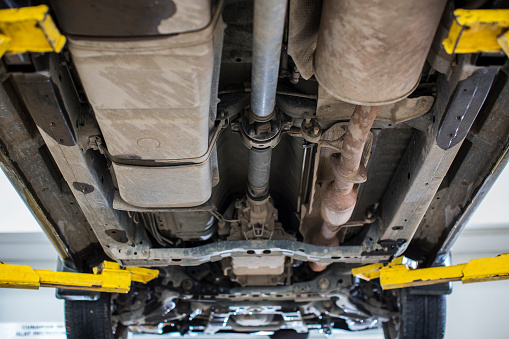 Edwards & Sons Automotive Equipment, Inc. is your source for high-quality two-post, four-post, scissor, and mobile column lifts for automotive shops of every scale and home car enthusiasts. As a Rotary authorized installer (RAI) and distributor, we have a wide range of automotive lifts to meet the needs of your shop. In addition to sales, we also provide equipment servicing, ALI-certified lift inspections, and automotive shop project management. Whether you're planning a new shop, expanding your current one, or replacing outdated equipment, you'll find everything your shop needs to be productive and efficient with precision repairs. Contact us today at 1-800-EDWARDS (1-800-483-3927) or send us an email at [email protected].
Rotary mobile column lifts are heavy-duty, with four to six columns and adjustable wheel forks that can accommodate a variety of wheel sizes. They're quick to set up and have one of the fastest lifting speeds in the industry. Some of the mobile column car lifts we offer include:
MCHF19 Flex

– With a capacity of 18,800 lbs., the ALI Gold Certified Flex wireless mobile column lift gives your shop extreme mobility, flexibility, and versatility. The Flex allows you to monitor and adjust your columns from anywhere in the shop, which means you don't have to worry about cords, keys, or chips. With the option of two, four, six, or eight columns, you can lift vehicles up to 150,400 lbs. There's no need to wait at each column to sync; instead, the remote control auto-detects and connects when communicating with the columns. The Flex also features a LockLight on each column, and vehicle height and weight digital display gauges.

MCHM19 Flex Max – The ALI Gold Certified Flex Max wireless mobile column lift. It provides all the features of the Flex, with the addition of operational controls at each column to make work as comfortable and efficient as possible.
MCH18 Mobile Lifting System

– MACH418

mobile column lifts

are ALI Gold Certified have a capacity of up to 72,000 lbs. and utilize battery-operated columns with an internal charger, giving you the power and mobility to make repairs anywhere in your shop, without the need for power cords. A wired option is also available. The steering system allows you to save valuable time by removing the need to manually pump the jacks up to move the columns. You have the option to configure 2, 4, 6, or 8 columns, each of which can be controlled using the intuitive control system.
In addition to Rotary mobile column car lifts, we also offer automotive lifts from Forward Lift and Direct Lift, as well as wheel servicing equipment, air & lube equipment, exhaust extraction, and more. For high-quality, durable automotive equipment, contact Edwards & Sons Automotive Equipment, Inc. today.